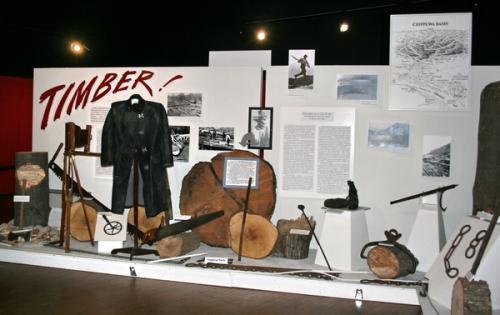 Timber exhibit recalls the history of logging and its important role in Alma

The Alma Area Museum, operated by the Alma Historical Society, is open to the public in the afternoon on Saturday & Sunday from Memorial Day through the 1st Sunday in October. Admission is free.

Museum Location: 505 South 2nd Street, Alma, Wisconsin
Current Operations: Museum Will Be Open Through Sunday, October 18th
2015 Operation Dates: Memorial Day through October 18, 2016 -- 1pm to 4pm, Saturday & Sunday

The Museum is housed in the Buffalo County Training School & Teachers College.

1896 Painted Panel From Jordet Farm, Modena, Buffalo Co, Wisconsin

Buffalo County Training School & Teachers College
This school was built in 1902 to train teachers for the more than 100 district schoolhouses in Buffalo County at the turn of the centry. The stone for the foundation was quarried from directly behind the structure. At first a high school graduate could earn a teaching certificate after one year, later changing to a two year requirement. An actual class of students was taught each year by the trainees.


The school was discontined in 1967 and the building was used as the Alma City Hall and Library until 1982. In 1982 the city leased the training school building to the Alma Historical Society to prepare and house a museum, now known as The Alma Area Museum.


CLASS ROSTERS COMING SOON!



Alma Historical Society 505 South 2nd Street P.O. Box 473 Alma, Wisconsin 54610

[email protected]


Copyright (c) 2010-2014 Alma Historical Society All Rights Reserved Design by KCG Creative
Web Hosting powered by Network Solutions®